Viwis & "Pringles-kullens" egna valpsida

Viwi´s & the"Pringles-litter´s" own puppysite




Nedräkning
Nu har veterinären varit här och sagt att vi var fina och att det inte verkade vara nåt fel på oss alls.
Nedräkningen har börjat och vi börjar åka till våra nya hem på torsdag.
8-veckorsbilder finns i tabellen längre ner på sidan


Countdown
Now the vet has been here and she couldn´t find anything wrong with us.
Countdown has begun and we begin to move out on Thursday.
8-week-pictures in the table further down on this site.



Full fart framåt
Livet är en fest - det är vårt motto just nu.


Sista veckan hos kennelmamma är det mycket besök och mycket aktiviteter.
Det är full fart och sen sover vi. Bästa aktiviteten på hela dagen är när vi hjälper till att städa på morgonen.
Efter det är vi väldigt trötta för vi är väldigt arbetsamma under denna tid och får MYCKET gjort.
Vi är duktiga på att gå i luckan och göra våra behov utomhus men när det regnar o blåser kan vi lika gärna stanna inne.
På tisdag kommer fotografen så då får vi passa på att se lite fina ut.
På onsdag kommer vår veterinär och sen bär det av.
Livet leker!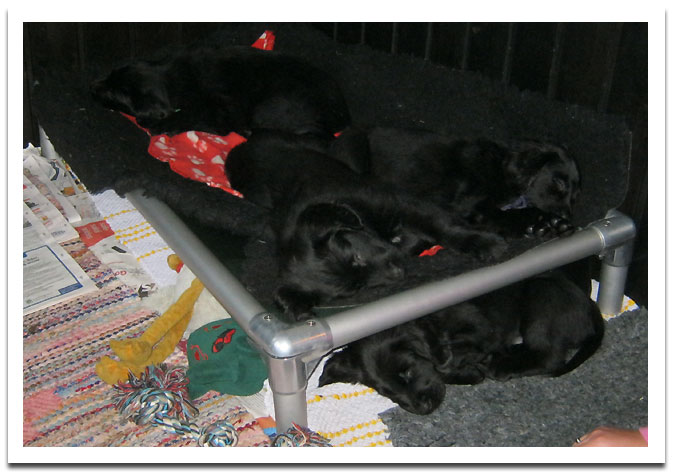 Våningsäng på vårt sätt - Out way of bunkbedding


Full Speed Ahead
Life´s a Party - That´s our motto right now


Last week in the kennel and with our kennelmum there are lots of visits and activities.
Full speed and then sleep. Best activity of the day is when our kennelmum cleans in the morning.
We help and after that we are very tired because we are very helpful and we get LOTS done.
We are very good doing what we should outdoors. But when it´s windy and rainy we might as well stay indoors.
On Tuesday the photographer will arrive so we have to look our best.
Wednesday the vet arrives and then we´re off.
Lif´s a blast!



4 januari - Hajar
Vi är som hajar just nu och våra tänder är rakbladsvassa och vår kennelmamma har blåmärken lite varstans.
Vi har mycket besök och det är så himla roligt med alla människor. Vi har återigen varit uppe på bordet igen och resultatet ser ni här nedan.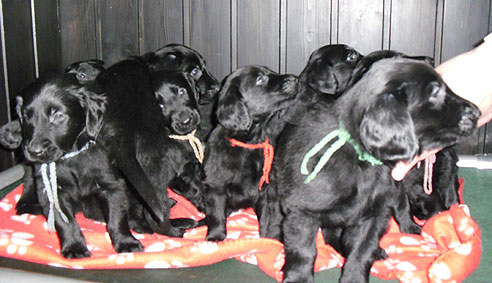 January 4th - Sharks
We are like sharks now and we sharpen our teeth on our kennelmum sometimes. She´s got marks all over.
We have lots of visitors and we just love it. We have been up on the table again and the result you can see here below.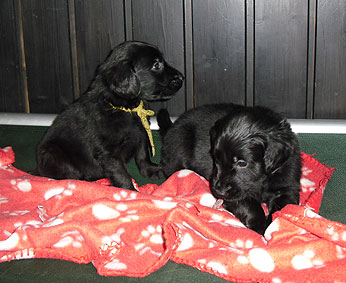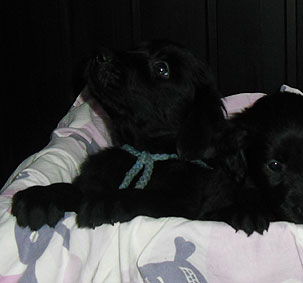 8v



Gilliam´s Gold Xtreme - "Rex"



Gilliam´s Gold Groovy Glider - "Ludwig" alias Ulf



Gilliam´s Gold Pring My Ride -

Till Salu



Gilliam´s Gold a Way of Life - "Anton"



Gilliam´s Gold Let the Fun Start - "Lizzie"



Gilliam´s Gold Top Pops - "Windy"



Gilliam´s Gold Party Time - "Alice"



Gilliam´s Gold Everything Pops - "Thilia"



Gilliam´s Gold Grab and Go - "Huahua" (uttalas "Woawoa")

28 december Första gången på bordet vid 4,5 veckor
Jättebra första försök - vi missade tyvärr Herr Lila, han tar vi först nästa gång


December 28 First time on the table at 4,5 weeks
A very good first try - we missed Mr Purple but he will be first our next time




25:e december - 4 veckor, flytt mm
Jisses va vi har mycket att berätta!


Vi har haft besök flera gånger

, vi har fått tänder

och innan jul fick vi flytta ut till en egen lägenhet


Mamma, moster Keno och Mormor bor i ofs vägg i vägg....


Mamma hälsar naturligtvis på flera gånger om dagen, även Keno och vår idol Gizer

hälsar på titt som tätt men
vi klarar oss riktigt bra själva faktiskt.

Vi gillar att leka med varandra


och bråka med varandra också om sanningen ska fram.
Vi har blivit jättegalna denna veckan och morrar och leker dominanslekar med varandra.
Vi har firat jul också. Vi fick flest julklappar - jätteroliga leksaker och massor med kul.
Dom andra fick mest ätbara saker

så vissa av dom var lite avis på våra nya saker


och försökte ta med dom in till sig. Här nedanför kommer massor med nya bilder och filmer.
Tjingeling sålänge

- LIVET LEKER!




December 25th - 4 weeks, move and more
OMG you can´t imagine how much we´ve got to tell you


We´ve had visitors several times

, we have grown teeth

and before Christmas
we moved out of the box and into our own appartment.


Mum, aunt Keno and Grandma lives next door.

Our Mum ofcourse visits several times a day but also
aunt Keno and our idol Gizer.

But we acctually do fine on our own


We love to play with oneanother

and to tell the truth we also like to fight. Our Kennelmum
says we have gone mad this week. We have celebrated Christmas and we got the most presents.
Lots and lots of funny toys and other things. The others mostly got eatable things

and
some of them were a bit jealous of our toys

and try to snatch them away.
Below you will find lots of new photos and films. Life´s a blast!

See ya!

Julpyntat i hundrummet
Christmasdecorations in the dog´s room

Våra nya matskålar
Our new foodbowls

Vi bor vägg i vägg med Mamma, Keno och Mormor
We live next door to Mum, Keno and Grandma

Här har vi gott om plats att busa
Lots of room for fun and games

Ja, ja när vi blir lite större ska vi ligga på sängen inte under
Yes, yes when we grow we are going to lay on the bed not under

Kom o ta mig om du kan!
Come get me if you can!

Nya leksaker
New toys

Ge upp säger jag!
Give up I tell you!

Några av våra julklappar.
Some of our Christmaspresents.

Försöker samsas om leksakerna
Trying to get along sharing the toys
Missa inte - Nya huvudbilder i schemat nedan - Don´t miss - New headshots in the table below

12 december - Vi har fått ögon
Hej igen. Vi är nu över 2 veckor och har fått små ögon, vissa av oss stora och några har öppnat dom lite mindre.
Vi växer så det knakar, springer runt på vingliga ben i lådan och vi har massor med roliga ljud för oss.
Vi har också fått pedikyr för första gången dvs klippt klorna.
Vår extramormor Maria och lillmormor Lina har hälsat på massor med gånger och nu har vi haft vårt första valpköparbesök.
Det var Kristina och Lasse som var här och vad vi förstått så kommer det fler nästa vecka.
Filmningen gick inte bra för kennelmamma säger att det är för mörkt i rummet vi bor nu.
Det får vänta tills vi flyttar till större lägenhet. Här kommer istället en massa bilder - håll tillgodo
Se också våra huvudbilder längst ner i tabellen med våra födelsetider
.

12th December - We have eyes
Hello again. We are now over 2 weeks old and have got eyes . Some of us have bigger eyes and some a little smaller.
We grow and grow and run around in the box on high legs, making strange and funny sounds.
We had our first pedicure and our extra grandma Maria has visited lots of times with Lina but we also had our first puppybuyervisit.
Kristina and Lasse came to visit but as we understand there will be plenty more next week.
The filming didn´t go well as our kennelma says it is to dark in the room where we live.
That will have to wait until we change quarters. Meanwhile you have to do with some photos below.
See our headphotos further below in the table with our times of birth

Fröken Lila/Vit - Miss Purple/White

Herr Lila/Vit sover gott på Frk Rosa
Mr Purple/Pink resting on Miss Pink

Herr Lila/Rosa och Frk Turkos myser
Mr Purple/Pink and Miss Turquois snuggling

Minstingen Frk Gul med ett av syskonen
Itty bitty Miss Yellow with one of her syblings

Mys i lådan
Snuggling in the box

Vår variant av våningsäng
Our way of bunkbedding

5 december - 1 vecka
Nu har vi passerat 1 vecka och flera av oss har också passerat 1 kg.
Mormor Yessie har flyttat in till oss och mamma och mamma har hjälpt kennelmamma med musjakt mitt i natten.
Ni förstår att det händer saker här hela tiden. En dag blev mamma sjuk och fick åka till doktorn.
Som tur var såg vår kennelmamma direkt att någt var fel så hon kom snart hem igen och hon har varit bra sen. Hon behövde lite kalk.
Vi har växt så vi har fått flytta ut knuten på våra halsband. När vi växt ur dessa får vi nya har kennelmamma lovat,
och dom ska räcka tills vi åker hemifrån. Over and out för denna gång.
Nya bilder o lite film inom kort.
.

5th December - 1 week
Now we have passed 1 week and several of us have also passet 1 kilo.
Grandma Yessie has moved in with us and Mum and Mum has been helping our kennelmum with mousehunting
in the middle of the nigth - as you can see there is not a dull moment here. One day our Mum got sick and had to see the docotor.
Luckily our kennelmum immediately saw that somthing was wrong so therefor our Mum got better very quickly
and she has been doing great ever since. She needed some calcium. We have grown to the point where we have moved
the knot of our necklaces. When we outgrow them we till have new ones that will hold until we leave home.
Over and out for this time
New photos and some moving pictures shortly



30 nov - Våra namn
Vi äter o sover, sover o äter o växer naturligtvis....
Vi har hört rykten om våra nya namn som ska bestämmas....
Våra stamtavlenamn kan ni se nedanför den engelska texten.

.

30th November - Our names
We eat and sleep, sleep and eat and ofcourse we grow....
We have heard rumours about our new names being decided....
Our pedigreenames will be:
Hanar / Boys
Gilliam´s Gold Groovy Glider
Gilliam´s Gold Xtreme
Gilliam´s Gold a Way of Life
Gilliam´s Gold Pring My Ride
Tikar / Girls
Gilliam´s Gold Let the Fun Start
Gilliam´s Gold Grab and Go
Gilliam´s Gold Party Time
Gilliam´s Gold Everything Pops
Gilliam´s Gold Top Pops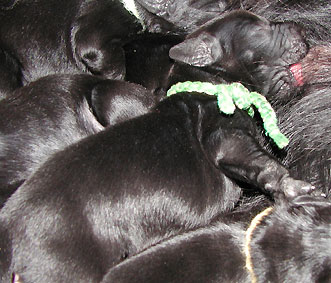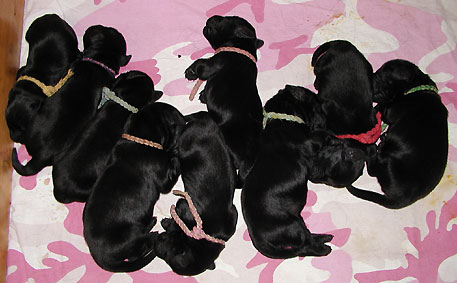 En växande liten skara - Growing little bunch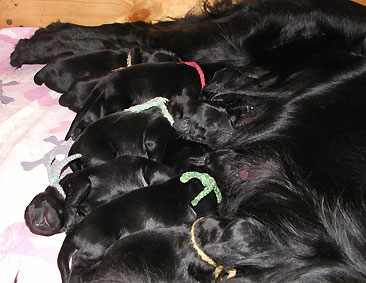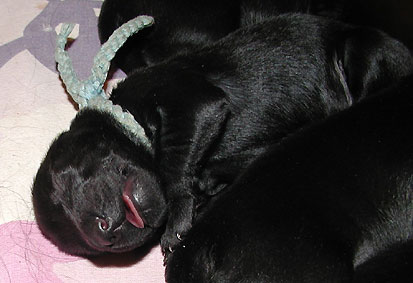 Mjölkbaren öppen....Raaaaap - Milkbar open....Buuuurp
*


27 nov - Livet i valplådan
Hej alla. Vi mår bra och vår mamma är klok och lugn.
Vi spenderar mesta tiden i mjölkbaren och vi är väldigt fotogenique
.

27th Nov - Life in the box
Hello there. We are all doing fine and our Mum is calm and wise.
We spend most of our time in the milkbar and we are very photogenic.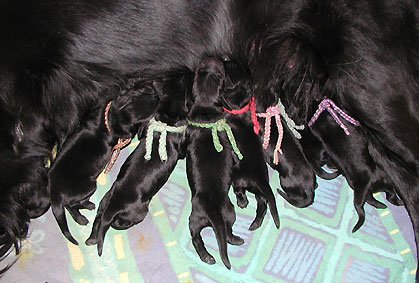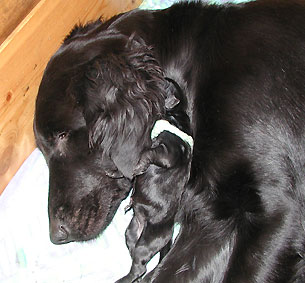 Samling i mjölkbaren ovan t.v och Förstfödde "Ulf" med Mamma ovan t.h
All of us in the milkbar above to the left and Firstborn "Ulf" with Mum above to the right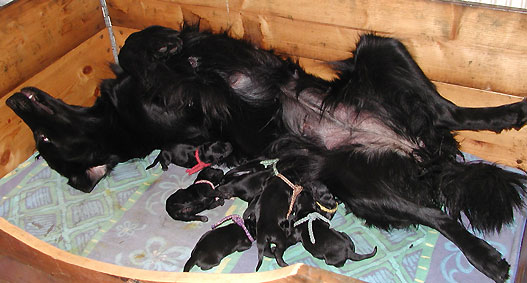 Viwi tar en paus i matandet - Viwi taking a break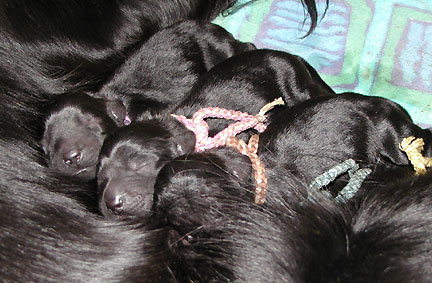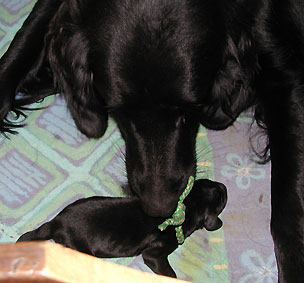 Mätta och belåtna ovan t.v och lille "Ulf" igen - på villovägar ovan t.h
Full and content above to the left and Little "Ulf" again, straying above to the right



25 nov - Nu är vi här....
4 pojkar och 5 flickor har sett ljuset på kenneln.
Vi mår alla bra och uppdatering kommer efter att vi fått sova lite.
Om det inte kommer några eftersläntrare så är det Camilla som är vinnare av gissningstävlingen.
Grattis, ett pris finns att hämta här.


25th Nov - We have arrived....
4 boys and 5 girls have seen the light in the kennel.
We are all doing fine and more updates will come once we get some sleep.
If there are no others hiding Camilla is the winner of the guessingcontest.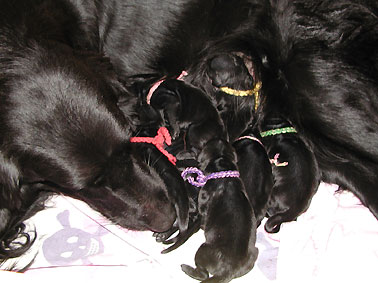 22 nov - Nu räknar vi ner....
Viwi har iklätt sig den "tomma blicken", bäddar och gräver samt letar hålor ute.
Vi har börjat nedräkningen och vi har 22 gissningar på magen hittills.


22nd Nov - Countdown begins....
Viwi now has the "empty look" in her eyes. She makes beds everywhere and outside
she is digging and looking for holes in the ground.
Countdown has begun and sofar we have 22 guesses below.
Färg / Colour
Född /Born
Foto/ Photo
2 veckor / 2 weeks
Foto/ Photo
4 veckor / 4 weeks
Hane/Male
Grön/Green
01.33
Tik/Bitch
Rosa/Pink
05.07
Tik/Bitch
Röd/Red
05.52
Hane/Male
Ljusblå
/Lightblue
06.22
Tik/Bitch
Gul/Yellow
07.40
Tik/Bitch
Lila-Vit /
Purple-White

från 4 v -Beige
from 4 weeks
-Beige
08.12
Hane/Male
Lila-Rosa/
Purple-Pink

från 4 v -Purple
from 4 weeks
- Purple
09.48
Hane/Male
Brun/Brown
10.40
Tik/Bitch

Turkos/Turquois



från 4 v -Orange
from 4 weeks
- Orange
12.20



Gissningstävling/Guessingcontest